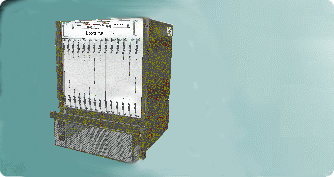 14 slot 14U Dual Star
Features and Benefits
14 slot 14U size fits standard racks and provides optimum space and cooling.
40 Gbps Dual star and Full Mesh backplanes for futureproof bandwidth.
Four 48V (40V to 72V) EMC filtered power feeds for 400W per slot.
Highly intelligent fan trays maximise cooling capability (see separate reports).
Front dual shelf manager with FP Ethernet and RS23 access.
Front panel Telco LED and Alarm connections.

Reliability and Availability and Servicability Benefits from Advanced-Platforms
Predictive cooling.

We don't wait for components to overheat.

Predictive failure analysis.

We don't wait for fans to fail.
We don't wait for air filters to clog.

Design failure analysis.

We effectively handle fan failures.
We effectively handle fan control failures.
Supplies, fuses, ShMC. IPMC.
We monitor supply voltages and power.
Redundant (4) 48V power feeds.
Fast FRU replacement.
Non invasive air filter replacement.
Adequate space for main and RTM cables.