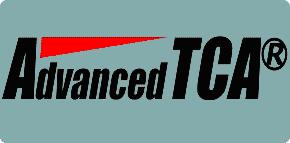 Pre-certification service for NEBS TPR.9208
In July 2009 VerizonNEBS introduced a new initiative entitled "Thermal Modeling Simulation and Test Certification Program (TMST)" administered by NEBS through a new branch of the ITL program called the Independent Testing Laboratories Thermal Modeling Simulation and Test Certification (ITL-TMST) Program. These requirements are applicable to new designs and to modifications of existing designs. The goal of VerizonNEBS is to reduce equipment energy consumption by reducing the heat generation.
TPR-9208 specifies the detailed Thermal Modeling, Simulation and Test requirements for Telecommunications Equipments. These can be done by the equipment manufacturer or by a selected Verizon certified Independent Test Laboratory.
Advanced-Platforms Ltd. are partnering with 'Computerized Analysis and Simulation Ltd. (CAS) to provide the analysis, simulation and measurement requirements for telecom systems and the component boards and shelves. We will work with suppliers to verify conformance to the requirements and document the results in a 'Thermal Management Conformance (TMC) Report' for submission to certified ITL as part of the NEBS conformance testing and reporting program.
Advanced-Platforms Ltd. and CAS are in process of applying for certification approval for TPR-9208.
TPR-9208 provides the minimum set of requirements and tests for the thermal management portion of telecommunications equipment NEBS testing. There are some differences between this document and the CP-TA Interoperability Compliance Document and the Thermal Test Procedures. Verizon state that additional tests may be added to TPR-9208 as needed. Advanced-Platforms Ltd. are formulating questions and proposals to Verizon for high power telecoms systems such as AdvancedTCA.